(502) 475-3312
An independent city in eastern Jefferson County, the city of Anchorage is one of the Louisville area's most upscale communities, known for the beauty of its homes and the quality of its schools. Here historic homes, country estates, and smaller homes sit side by side. Part of the city is designated as the Anchorage Historic District, which was listed on the National Register of Historic Places in 1982.
The Glenmary series of subdivisions is located in southeastern Jefferson County, Kentucky. It is south of the Gene Snyder Freeway (I-265) and accessed from Bardstown Road. It is in the "Fern Creek" area; however Fern Creek has no defined borders. In the Glenmary series, there are condos, patio homes, golf course homes, ranch, 2-story, and estates up to 5+ acres.
WELCOME TO The GREATER LOUISVILLE Area BY THE DOBBS TEAM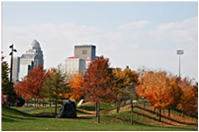 Our goal with this site is to inform you about Louisville and the surrounding areas.
We have provided information on the functions of local government, area schools, and what there is to do in the area.
Since we are licensed full-time Kentucky real estate agents, we also have provided tools for you to find the "perfect" house with our interactive map, or use the advance feature to "fine tune" your results. This is done in conjunction with the Greater Louisville Area MLS. Even though the MLS will let you search quite a bit of KY and southern Indiana, most homes will be found in the counties of Bullitt, Jefferson, Oldham, Shelby and Spencer.
Many people choose to live in adjoining counties in Kentucky and Indiana and commute to work daily. We have included information for you as well.
New Homes and Open Houses are something that we all have some interest. Open houses are a great way to tour a property and see "inside" the house. We have developed some shortcuts, just for you.